We all know that we should eat five portions of fruit and vegetable every single day. But how many of us actually do that? If you cheat from time to time and want to compensate by eating the healthiest fruit there is, here's the list of top 20 fruits. They all have unique benefits and you should combine them for the best result. Remember, make your diet as versatile as possible!
Grapefruit
Grapefruit is one of the healthiest citrus fruits you can eat. It's good for weight loss and reduces insulin resistance.
Pineapple
Pineapple is the king of tropical fruits. Only one cup will provide you with 130% of a recommended daily dose of vitamin C and 76% of manganese.
Avocado
Avocado is not like other fruits – it contains healthy fats instead of carbs. It's also high in potassium so it's great for a healthy heart.
Blueberries
Blueberries are very high in fiber, vitamin C, vitamin K and manganese. They also have plenty of antioxidants. The best choice for the immune system.
Apples
Not only they are popular and cheap, apples are amazingly nutritious. Apples will help you have a healthy heart and significantly reduce the risk of type 2 diabetes.
Pomegranates have various health benefits thanks to a big amount of antioxidants – three times more than green tea and red wine have.
Mango
Mangos contain soluble fiber and plenty of vitamin C. They are perfect companions for fighting diabetes.
Strawberries
Strawberries will give you enough vitamin C, manganese, folate and potassium and they come with a lower glycemic index than most of the fruits.
Cranberries
Cranberries come packed with vitamin C, manganese, vitamin E, vitamin K1 and copper.
Lemons
Lemons are best known for their vitamin C content. Some experts claim lemon juice can treat kidney stones.
Durian
Besides the high dose of vitamin C, Durians also have plenty of manganese, B vitamins, copper, folate and magnesium.
Watermelon
Watermelon is not only delicious but also rich in vitamins A and C. It's high in antioxidants, too.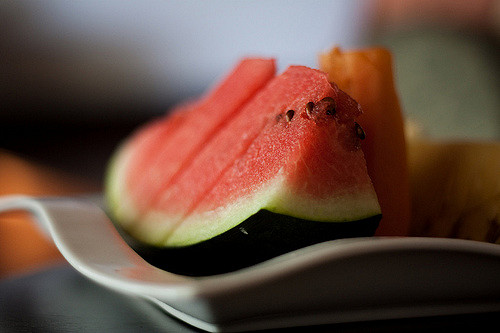 Olives
Olives will help you prevent heart disease and liver damage thanks to important antioxidants, vitamin E, iron, copper and calcium.
Blackberries
Like other berries, blackberries will provide you with plenty of vitamins, minerals, fiber and antioxidants.
Oranges
Oranges are a popular and universally loved choice of fruit. They are known as a source of vitamin C, but also provide B vitamins.
 Bananas
Bananas are very high in potassium, as one piece of this tasty fruit provides 12% of the RDI for the mineral.
Red and Purple Grapes
Grapes have a high level of antioxidants which will save your heart in the long run.
Guava
Guava provides the daily recommended amount of vitamin C in less than 30 grams. It also contains fiber, folate, vitamin A, potassium, copper and manganese.
Papaya
Papaya will give you plenty of vitamin C, vitamin A, potassium and folate.
Cherries
Cherries are rich in nutrients, especially potassium, fiber and vitamin C, as well as in important antioxidants.